Smoke-Free Housing
Finding a place to call home is hard, but finding a smoke-free home in your preferred type of property can be even harder, if you don't know where to look!
There are over 50,000 smoke-free apartments in Southern Nevada in our smoke-free housing directory below.
All of the properties included in the listing below have self-reported that they have buildings where all units within are 100% smoke-free. However, the places listed may have some buildings that allow smoking, and may allow smoking on patios or in other outdoor spaces. Smoke-free policies can vary by property and may solely include tobacco products, electronic cigarettes, cannabis, or a combination of these. Please inquire about a 100% smoke-free building policy when calling a community and before signing a lease.
Apartment Owners and Managers: If you own or manage smoke-free apartments and would like to be included in the Smoke-Free Housing Directory, please fill out the request form here.
The creators of this site do not represent or endorse the accuracy, currency or reliability of any of the information, content, products, or advertisements contained on, distributed through, or linked, downloaded, or accessed from this site. The Health District shall not be liable for any damages, expenses or costs, of any kind whatsoever, related to or arising from an individual's use of the information contained herein.
Smoke-Free Apartments & Condos
Owners and Managers
Additional Resources
If you wish to order free signage, please visit our online store or contact us at 702-759-1270 or tobaccoprogram@snhd.org. Free resources include posters, postcards and table tents.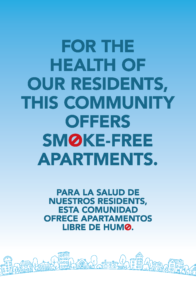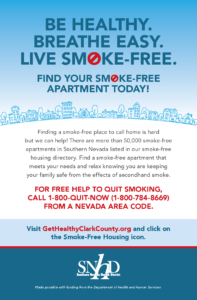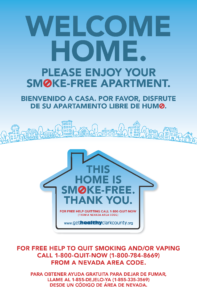 ---
Other free resources include:
Contact Us
If you own or manage smoke-free apartments and would like to be included in the Smoke-Free Housing Directory email TobaccoProgram@snhd.org or call (702) 759-1270.
Tenants
Yes, it is legal to restrict or eliminate smoking in individual units and common areas of multi-housing developments.
Landlords have legal rights to set limits on how a resident may use a rental property. For example, they may decide whether residents are allowed to have pets and the hours the pool is open. A "no smoking" policy is similar to a "no pet" restriction in the lease or pool hours in the common area.
It is important to note that a landlord is not unlawfully discriminating against smoking residents or violating a smoker's fundamental right to privacy when banning smoking in common areas or individual units. Claims to the contrary have no legal basis.
There is no law that prohibits designating areas or individual apartment homes as smoke-free (NRS 202, 118, and 207). People who smoke are not protected by state or federal anti-discrimination laws, nor are they considered disabled under state or federal disability rights laws. An argument commonly heard is that an individual has a "right to smoke"- when in fact, there is no constitutional or other legal right to smoke.
Secondhand smoke seeping into apartments or condominiums from neighboring units is a common problem because of shared ventilation between housing units and inadequate door and window insulation. Unfortunately, there are no fail-proof solutions to this problem.
In Nevada, because apartments and condominiums qualify as personal residences, they are exempt from any smoking restrictions under the Nevada Clean Indoor Air Act. And nationally, the record of resolving such conflicts in the courts is somewhat mixed.
According to the American Nonsmokers' Rights Foundation, nonsmokers have filed lawsuits against landlords and other residents on the basis of nuisance, breach of statutory duty to keep the premises habitable, breach of the common law covenant of peaceful enjoyment, negligence, harassment, battery, and intentional infliction of emotional distress; courts have ruled for and against nonsmokers in individual cases.
However, there are many actions you can take to protect yourself from secondhand smoke.
Many landlords and property managers in Clark County have begun to acknowledge the growing demand for smoke-free living, considering only 11.4 percent of Nevada's adult population smokes.
When looking for a smoke-free apartment, remember to ask the landlord or property manager about smoke-free policies and/or smoke-free living options. Some properties in Southern Nevada have entire buildings designated as smoke-free.