When grocery shopping, be sure to select items from all five food groups – fruits, vegetables, grains, proteins, and dairy – to get the nutrients you need. For more information visit ChooseMyPlate.gov.
Eat the right amount of calories based on your age, sex, height, weight, and physical activity level. Find what and how much to eat within your calorie allowance.
Pay attention to nutrition labels and learn how to read them correctly.
Eat as a family as often as possible. When families dine together they tend to consume more fruits and vegetables and eat healthier meals overall.
Watch your portion size. Research shows people unintentionally consume more calories when given larger portions.
Use a stoplight system to help you identify healthier food and beverage choices throughout the day.
Stoplight System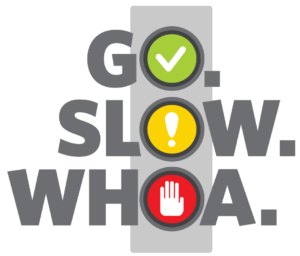 Green Foods: These are foods to choose often throughout the day.  They are low in saturated fat, sodium and sugar and promote overall health.
Examples include: All fresh fruits and vegetables, whole eggs, lean cuts of animal proteins, plant-based proteins, whole grain products such as bread, tortillas, brown rice, oatmeal, low fat and fat-free milk products, plain water, plain coffee, and unsweetened tea.
Yellow Foods:  These are foods to choose occasionally.  They have medium levels of fat, sodium and sugar.  They can contribute to good health.
Examples include: 100% fruit juice, regular "white" bread, flour, pasta, tortillas, white rice, and whole milk, diet soft drinks.
Red Foods: These are foods to choose rarely or only on special occasions.  They have high levels of fat, sodium or sugar.  They provide only limited health benefits.
Examples include: Desserts such as ice cream, cookies, cake, candy, most processed/packaged snacks, regular soda, non-100% juice drinks with added sugar, baked goods and fried foods.
Supporting Wellness at Pantries (SWAP)
The Chronic Disease Prevention Program is working with food pantries in Southern Nevada to implement the SWAP program.  The SWAP program is a nutrition ranking system designed to help promote healthy food choices at food banks and food pantries.  If you're interested in implementing SWAP at your food pantry, please contact us at: gethealthy@snhd.org