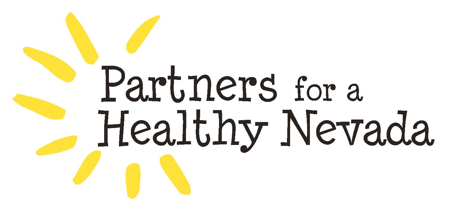 Partners for a Healthy Nevada
Southern Nevada's Obesity Prevention Coalition
Formed in 2006, Partners for a Healthy Nevada (PHN) is Southern Nevada's official obesity prevention coalition. The coalition offers networking, information sharing, and advocacy opportunities for all members as well as a chance to support community projects and activities that encourage physical activity and healthy eating. Membership is free and open to any organization or individual that has an interest in obesity prevention.
Vision
Residents of Southern Nevada have a healthy weight through physical activity and healthy eating.
Mission
To promote and support members' efforts to reduce the burden of weight-related disease through advocacy programs and activities that promote healthy eating and physical activity.
Goals
Objectives:
Hold at least four face-to-face meetings to provide information-sharing and networking opportunities for members. Feature presentations on obesity-related projects/activities from at least one member-organization at each meeting.
Send at least four 'Obesity Updates' to members and other interested parties.
Support PHN members' efforts to secure grant funding for obesity-related research and interventions by writing letters of support, facilitating collaborative partnerships, and providing a venue for project sharing and information gathering.
Maintain and update as needed the Partners for a Healthy Nevada webpage.
Objectives:
Participate in at least one community event related to obesity-prevention annually.
Participate in and support outreach and education opportunities on obesity-related topics and issues.
Update, maintain and expand the community PHN Speakers Bureau list.
Support and facilitate regular meetings and activities of the PHN School Wellness Taskforce.
 Objectives:
Monitor and provide regular advocacy updates (via in-person meetings or e-mail) on obesity-related issues that have been identified as priorities by the coalition.
Advocate and/or provide education on key issues and priorities where needed and appropriate.
Membership
Membership is open to any individual or organization that has an interest in obesity prevention. Complete the PHN membership form and join the following partners in building a healthier community:
American Heart Association
Children's Advocacy Alliance
Children's Heart Center Nevada
City of Henderson
City of Las Vegas
Clark County School District, Curriculum and Professional Development Division
Clark County School District, Food Service Department
Clark County School District, Safe Routes to School Program
Community Partners for Better Health
Comagine Health
Create a Change Now
Dairy Council of Nevada
Dignity Health/Barbara Greenspun WomensCare Center of Excellence
Education for Quality Living
Foundation for Positively Kids
Get Fit For Health
Get Outdoors Nevada
Girls on the Run, Las Vegas
Greater Youth  Sports Associations, INC.
Green Our Planet
Las Vegas YMCA
Lutheran Social Services
Montevista Hospital
National Park Service, Rivers, Trails & Conservation Assistance Program
Nevada Department of Agriculture
Nevada Division of Welfare and Social Services
Nevada Division of Public and Behavioral Health
Nevada Public Health Foundation
Nevada Senior Games
Nevada State College, School of Nursing
Regional Transportation Commission of Southern Nevada
The Food Connection
Ogden Foundation
Outside Las Vegas Foundation
PACT Coalition
Positively Kids
Three Square
Together We Can – Vegas Roots Community Garden
Trauma Recovery Yoga
UMC Healthy Living Institute
University of Nevada, Cooperative Extension
University of Nevada Las Vegas, Nevada Institute for Children's Research & Policy
University of Nevada Las Vegas, School of Public Health 
University of Nevada Las Vegas, School of Medicine
VA Southern Nevada Healthcare System
Weight Watchers
YMCA of Southern Nevada
Meetings
The Partners for a Healthy Nevada coalition meets quarterly. Special planning meetings may be called as necessary. All PHN members are welcome to attend special planning meetings. The facilitator will be responsible for scheduling quarterly and special meeting dates and locations, and notifying members.
Facilitation
A PHN member will volunteer to serve as PHN facilitator. This role includes scheduling the quarterly meeting, arranging for a meeting room, developing agendas based on input from other members, scheduling presentations, facilitating meetings, distributing meeting information to PHN members, compiling the year-end report, and drafting goals and objectives for membership review and approval.
Decision Making
All decisions will be made by consensus of the PHN members present/participating.
Goals and Objectives
Prior to the first quarterly meeting of the year, the facilitator will provide a year-end report summarizing the previous year's progress on stated goals and objectives.
Objectives for the new year will be drafted and reviewed by members at either a special planning meeting or via email. Input from members will be applied to a final version that will be posted to the website prior to the first quarterly meeting of the year. At least one PHN member will be assigned to oversee progress on each objective and will make reports to the membership at regularly scheduled quarterly meetings.
Goals, mission, and vision statements will be reviewed annually and revised as necessary.