Color Me Healthy Lending Library
Color Me Healthy is a program designed to teach preschoolers about physical activity and healthy eating. Interactive lessons incorporate color and music to engage all the senses – touch, smell, sight, sound, and taste. Color Me Healthy teaches children that healthy food and physical activity are fun.
The program was developed by the North Carolina Cooperative Extension and the NC Division of Public Health (Physical Activity & Nutrition Branch and Nutrition Services Branch). It contains 12 quick and easy lessons designed for use during Circle Time. The kit includes:
Four sets of picture cards to teach children: where foods grow, places to play, food colors, and all about dairy.
Seven original songs to enhance Color Me Healthy lessons. (CD and cassette tape included)
14 reproducible newsletters for parents that reinforce the messages children are learning in the classroom.
Several of the kit components are also available in Spanish.
The Southern Nevada Health District has copies of the Color Me Healthy kits (English and Spanish) available to childcare providers to borrow for up to two months at no charge. If you are interested in borrowing a kit, please email gethealthy@snhd.org.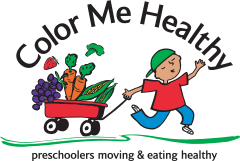 Other Resources
Nibbles for Health- These colorful and engaging newsletters for parents of young children can be shared by Child and Adult Care Food Program providers to communicate information about popular nutrition topics. There are 12 newsletters available in both English and Spanish.
Healthy Kids Resource Center- You will find all kinds of topics in this resource center on nutrition, physical activity and body image. Resources include activities, games, lessons, videos, music and dances which are free to use at home or in the classroom.