Obesity
More than two-thirds of U.S. adults and almost one-third of children and adolescents are overweight or obese. There are many factors that contribute to obesity. Neighborhood design, access to nutritious, affordable foods and beverages, and access to safe and convenient places for physical activity can all impact weight and health. The racial and ethnic disparities in obesity underscore the need to address social determinants of health such as poverty, education, and housing to improve health equity.
Obesity is a major public health concern in the United States as it is a contributing factor to many diseases including heart disease, stroke, diabetes, and some types of cancer. Factors that contribute to obesity in adults and children may include:
Physical Determinants of Health including housing, community design, natural environment, and built environment including lack of sidewalks and bike lanes, etc.
Social Determinants of Health including poverty, education, access to health care, social support, racism, transportation, etc.
Heredity and family (genetics)
Lack of physical activity
Dietary patterns
Childhood Obesity
Childhood obesity is a serious problem in the United States putting children and adolescents at risk for poor health throughout their lives. Obesity is defined as a Body Mass Index ( BMI) at or above the 95th percentile for children and teens of the same age and sex. Today, more and more children are being diagnosed with diabetes, hypertension and other co-morbid conditions associated with obesity and severe obesity.
Childhood Obesity Awareness Month
September is Childhood Obesity Awareness Month. This is an opportunity to raise awareness about childhood obesity and promote simple, actionable steps to prevent obesity, build healthy habits in children and families and reduce stigma around obesity.
This year, we are pleased to partner with many of our Partners for a Healthy Nevada Coalition members and other community partners to provide opportunities to participate in physical activity, learn about healthy food and beverages and promote the 5-2-1-0 guidelines. Partners include:
YMCA of Southern Nevada
Nevada Office of Minority Health & Equity
Nevada Minority Health & Equity Coalition
100 Black Men of Las Vegas
Las Vegas Promotoras
University of Nevada Reno – Clark County Extension
Nevada Chapter American Academy of Pediatrics
Blacks in Nature
Special Olympics of Southern Nevada
Girl Scouts of Southern Nevada
Greater Youth Sports Association
Clark County School District – Safe Routes to Schools
UNLV Nevada Institute for Children's Research & Policy
Regional Transportation Commission of Southern Nevada
UMC Health Living Institute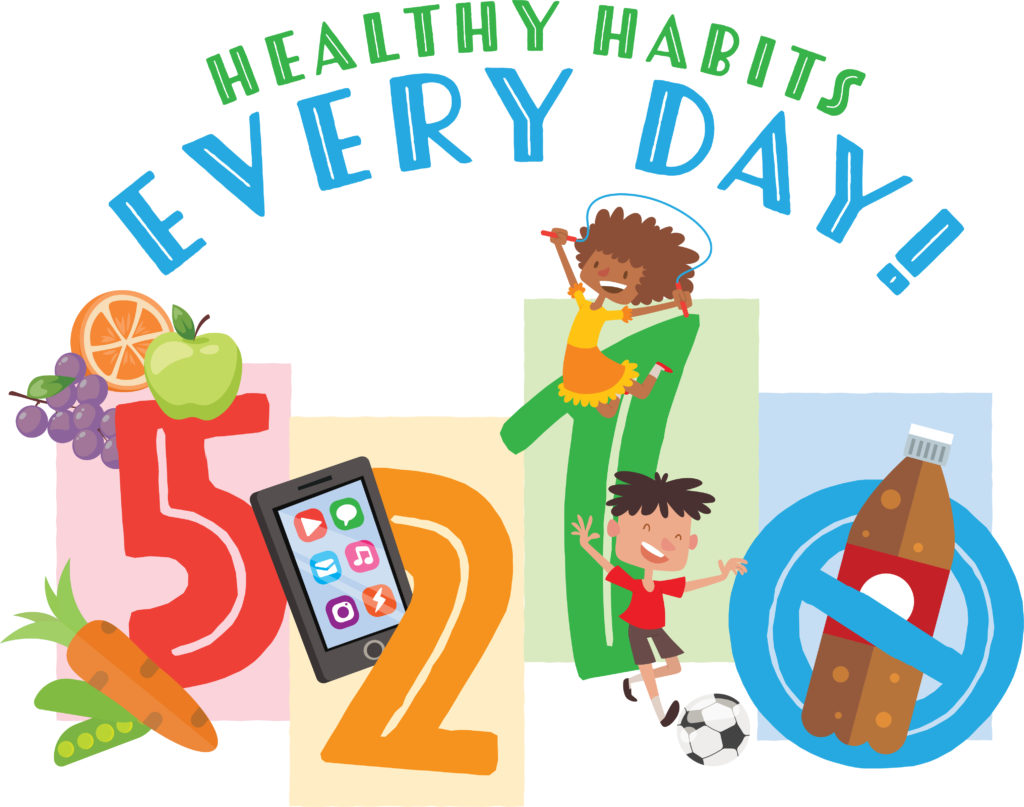 For information on 5-2-1-0 activities, programs, and events, please visit our calendar.
The American Academy of Pediatrics developed the evidence-based 5-2-1-0 recommendations to provide simple guidelines that can help children develop healthy habits. Below are some resources to help you incorporate and promote 5-2-1-0 guidelines.
Body Mass Index
Obesity is defined as having excess body fat. BMI can be used to screen for weight categories that may lead to health problems, but it is not diagnostic of the body fatness or health of an individual. BMI is a person's weight in kilograms divided by the square of the body height.
To estimate your BMI, see the Adult BMI Calculator or determine BMI by finding your height and weight in this BMI Index Chart.
If your BMI is less than 18.5, it falls within the underweight range
If your BMI is 18.5 to <25, it falls within the normal range
If your BMI is 25.0 to <30, it falls within the overweight range
If your BMI is 30.0 or higher, it falls within the obese range
To estimate a child or teen's Body Mass Index (BMI), type height and weight into the Child and Teen BMI Calculator
Following a healthy lifestyle may help to prevent obesity, as well as other negative health outcomes. Start building healthy habits now:
Make healthy food and beverage choices
Reduce screen time
Watch portion sizes in fast food and other restaurants
Be active – get at least 150 minutes of moderate-intensity activity per week
Get enough sleep
Talk with your healthcare provider about your daily habits, medical history and family medical history to determine the best ways for you to improve your health.
Resources